Steve Williams was elected as Huntington's mayor on Nov. 6, 2012, and has utilized his diverse background in finance, economic development, state government and local government to shepherd a renaissance in Huntington. He commonly says his goal for Huntington is to set standards that other cities across the nation will seek to emulate. Under Williams' leadership, Huntington has gained recognition for being named the $3 million grand prize winner of the America's Best Communities competition in 2017, for a comprehensive plan to transform Huntington into the economic gateway of the Appalachian region. This nationwide contest sponsored by Frontier Communications aimed to spur economic development in small communities. More than 350 communities entered. Working with community leaders, Williams' administration has been able to leverage more than $20 million in additional grants, philanthropic contributions and corporate investment since the competition began in 2015.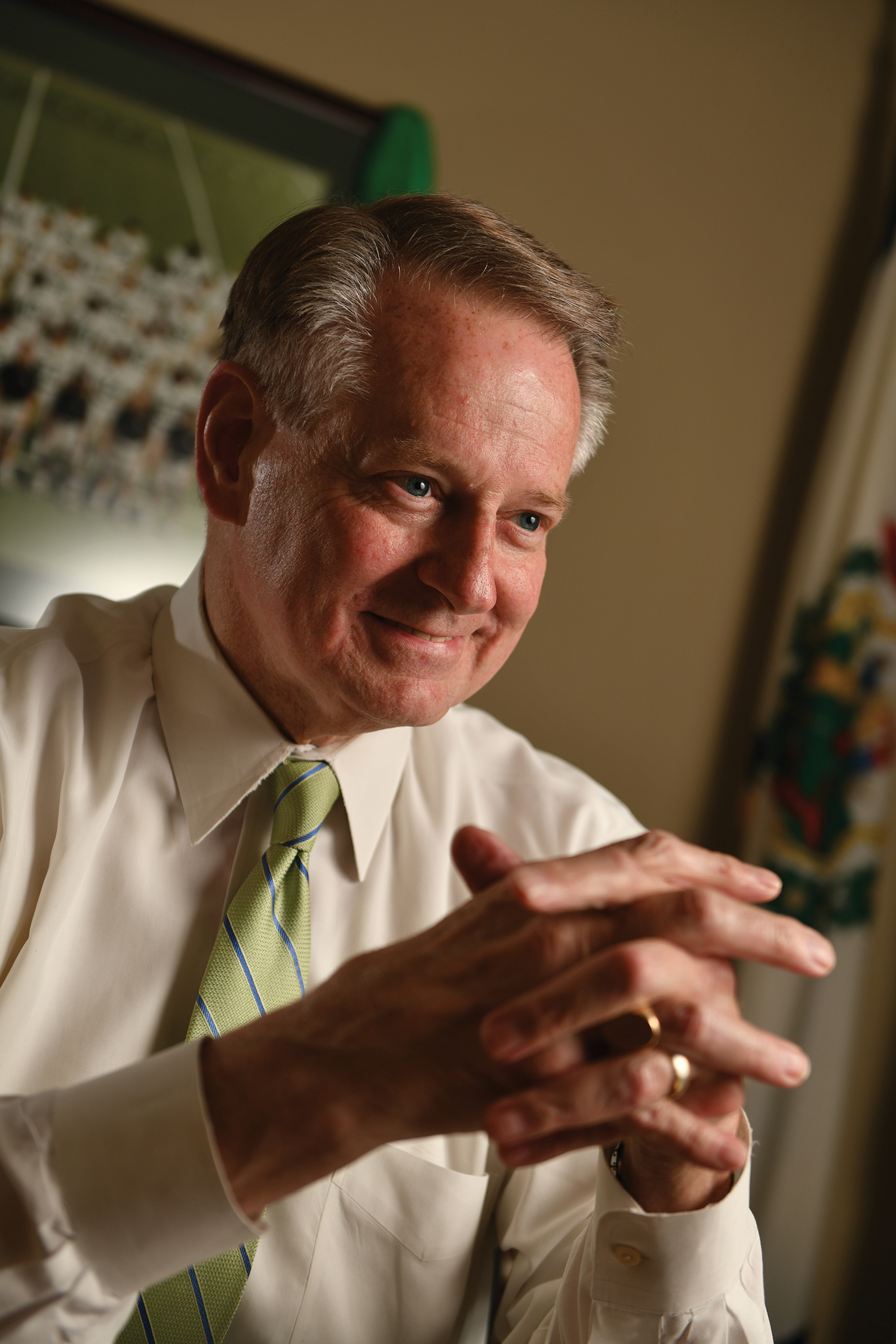 Williams also established a Mayor's Office of Drug Control Policy that helped develop a harm reduction program, an adult drug court and a quick response team to steer an individual into treatment after an overdose. Since 2015, the City of Huntington has acquired almost $6 million in state, federal and philanthropic grants to combat the opioid epidemic. In addition, Williams served on a joint task force of the National League of Cities and National Association of Counties to address the opioid epidemic and participated in roundtable discussions at the White House with the National Office of Drug Control Policy in 2016. In 2018, the City of Huntington was one of 10 cities to participate in the Mayors' Institute on Opioids, hosted by the National League of Cities in Boston, and was one of nine cities selected by Bloomberg Philanthropies to receive $1 million for its innovative approaches to helping first responders combat compassion fatigue. These holistic efforts resulted in a 41% decline in overdoses in Huntington in 2018 compared to 2017.
Steve Williams graduated from Marshall University in 1978 with a B.A. in political science and earned a master's degree in public administration from WVU in 1980. While at Marshall, he played tight end, wide receiver and quarterback for the Young Thundering Herd from 1974 – 1977. Over the years he has worked in personal and commercial finance in both Huntington and Chicago. In 2001 he married his high school crush, the former Mary Poindexter. He is the son of the late Dr. W. Don Williams, a professor at Marshall, and Clara Taylor Williams, a teacher at Highlawn, Miller and Cammack Elementary schools.
HQ1 How would close friends describe you?
I believe my friends would describe me as a man of faith who is loyal, devoted, focused and silly and someone who loves to laugh.
HQ2 What is something few people know about you?
I carry 11 pennies and a stone in my pocket. The 11 pennies are a reminder to try to directly help at least 11 people each day. The stone is a reminder for me to not be judgmental.
HQ3 What is your fondest childhood memory?
One summer when I was 4 years old, my dad would take me swimming at the pool at Concord College. On one particular day, I did something wrong and Mom told me I couldn't go swimming. Mom was pregnant with my brother, Marc, and took a nap that afternoon. While she was asleep, I put on my swimming trunks, rolled up a towel and began walking from our house down the street to campus to find my Dad. Mom woke up and, in a panic, called dad and told him she couldn't find me. As Dad was walking back to our house, he looked up and saw me. "Dad, are we going swimming?" I asked him. He picked me up, sat me on his shoulders and walked me home. I always felt that I was the most special person alive when Dad had me on his shoulders.
HQ4 What is your greatest regret?
Not learning to play a musical instrument.
HQ5 What is something you could talk about for hours?
Marshall sports!
HQ6 For the perfect meal, what would be on the menu?
My wife Mary's spaghetti. She makes the best spaghetti I've ever eaten. Her spaghetti sauce is chock full of Italian sausages, meatballs, chopped peppers and mushrooms. I could literally eat an entire pot of her spaghetti in one sitting.
HQ7 What movie made you laugh the hardest?
"There's Something About Mary." I have seen it a dozen times and I still laugh from the beginning to the very end. Not to mention the title sums up the exact way I feel about my beautiful wife Mary.
HQ8 Who is the one person, past or present, you would most like to meet?
Abraham Lincoln. He suffered failure yet didn't quit. He was endlessly curious. He was true to his principles and, as a result, did not shy from making difficult decisions.
HQ9 What song moves you the most?
"The Impossible Dream." I have a sculpture of Don Quixote and Sancho Panza in my office that was given to me by my office staff.
HQ10 What are three books everyone should read?
The Bible, The Tipping Point by Malcolm Gladwell and All I Really Need To Know I Learned In Kindergarten by Robert Fulghum.
HQ11 If you had a day off from work, what would you do?
Mary and I would begin the day by taking our dogs to Rotary Park for a walk. We would stop by Cam's Ham and get an order of a Big Ham, a Big Roast Beef and two orders of onion rings. Then we would stop by Austin's Ice Cream at The Market. In the afternoon, we would go home, cuddle up with our pets, watch movies and grill steaks for dinner. Finally, we would sit on the back porch with a fire in our fire pit and listen to music.
HQ12 If you could travel anywhere in the world, where would you go?
Israel. I would love to see the places I grew up reading about.
HQ13 What irritates you the most?
Willful ignorance and judgmental intolerance.
HQ14 What scares you the most?
Horror movies. I can't watch them.
HQ15 What is the most beautiful thing you have ever seen?
The sunset dropping behind the hills opposite Harris Riverfront Park at a Huntington Symphony Orchestra "Picnic with the Pops" concert.
HQ16 What talent would you like to possess?
I would love to be able to play a musical instrument, either piano or guitar.
HQ17 What do you like most about Huntington?
The people. The people of Huntington are loving, giving and forgiving. The beauty of our city is reflected in the hearts of the people of Huntington.
HQ18 What is your favorite spot in West Virginia?
My home. I can't imagine a more serene spot on this earth.
HQ19 What brings you the most joy?
I love hearing Mary walking through the house humming or laughing, and watching our dogs and cat play in our basement.
HQ20 How would you like to be remembered?
As a transformative leader and a man of faith who passionately loved his wife, his stepdaughters, his family and his community.